Using both CNC and manual equipment H.B. Carbide can provide detailed special preforms with minimal grind stock to your print.
Types of preforms include:
Straight & Spiral Flutes
Coolant holes
Stepped diameters
Centers (male-female-protected-extended)
Flats
Chamfers
Keyways
PCD pockets
Threaded preform blanks
and more
Carbide Threads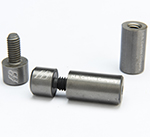 H.B. Carbide offers threaded preforms without additional lead times.
Eliminates cracking & other issues assosiated with traditional brazing operatings
Solution to problems related to coating of brazed construction tools
Applications include:
Tool height adjustment capability
Both metric and inch thread sizes
Draw screw for tapered & straight shank tools