Star SU carries chamfering, deburring and rolling tools from Samputensili. To learn more about each type of tool, choose from the menu on the right.
Why chamfer and deburr?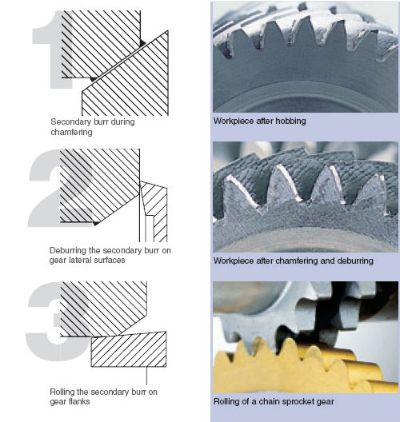 A burr which is not removed may break off during use and damage bearings or gears in gearboxes.
Over-carbonizing may result in too much pressure being exerted on sharp gear lateral surfaces which might then break.
A hardened burr may lead to premature wear of tools in subsequent finishing operations.
Removal of very sharp burrs reduces the risk of tool handling injuries.
Why roll?
The rolling operation serves to remove the material that builds up on the tooth flanks by plastic deformation during chamfering.
During chamfering/deburring, structural material changes in the form of compression may occur. The rolling process levels out the surface and causes the material to sink.