Vertical Turning Machines
Star SU offers high technology solutions for a wide variety of vertical turning applications from large diameter heavy workpieces to mass produced automotive applications such as brake rotors.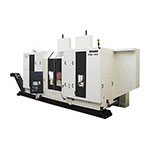 The VDM can be set up to accommodate small lot sizes with quick change overs or be set up for fully automated production with auxillary automation. Along with turning, the VDM can also be equipped to perform many other machining tasks including hard turning, drilling, milling and grinding. The VDM's high configurability allows it to machine workpieces in the aerospace, railway, wind energy commercial vehicle and general machining industries.
Read More