August 15, 2017
In-depth: The Scudding® Process
The choice of the soft machining process for gears depends on the component geometry, the required quality and the productivity. In the automotive and commercial vehicle sector; hobbing, shaping and broaching are the dominating processes for soft machining of gears. A highly productive alternative to the methods mentioned above is SCUDDING® from Profilator. SCUDDING® combines high flexibility with high productivity.
Due to the geometrical boundary conditions, hobbing can only be used with external gears with enough axial tool travel space. For other cases gear shaping is required, but this results in decreasing productivity. Another high productive alternative for machining internal gears is broaching. Due to the process characteristics regarding tool and machine technology, broaching has a low flexibility and it requires comparatively high investment costs.
Only SCUDDING® offers the possibility to produce internal and external gears with and without interfering contours. The process runs continuously until the complete face width of the part is machined. With an additional movement, lead corrections like crowning or angle corrections can be added without further problems. Back strokes, such as are necessary in shaping, are not required. To reduce the load on the cutting edges of the tool and increase the tool life, multiple pass cutting strategies are mainly used.
All other well-known gear-machining methods have more restrictions. Having the SCUDDING® technology in your shop, you can manufacture internal and external gears with a large range of sizes and shapes.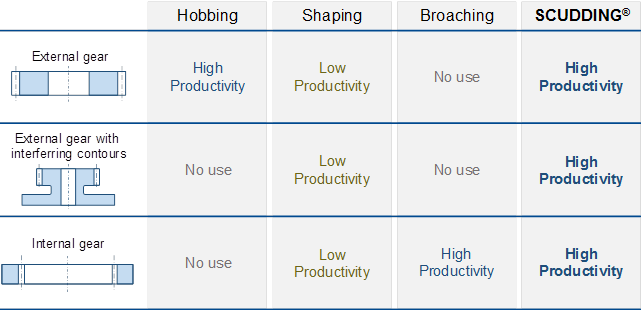 To learn more about our SCUDDING® cutter product line or to request a quote click here.
Dr. Ing. Deniz Sari
Gear Technology Manager
Samputensili/Star SU