June 11, 2018
The NXT generation of tool grinding has arrived
Elk Rapids Engineering a division of the Star Cutter Company and manufacturer of the Star brand of CNC tool and cutter grinders has been hard at work designing, testing, and refining their next generation (5) axis machine.
Similar to Colonel Steve Austin in the science fiction movie Six Million Dollar Man, Engineers at Elk Rapids had a challenge: "Rebuild him. We have the technology. We can make him better than he was. Better…stronger…faster."
A focus group comprised of professionals from both inter-company tool-manufacturing facilities and outside customer locations helped the team define exactly what the perfect design needed to be.
What people want:  A small footprint machine, with a large grind zone, an ability to run small and large diameter wheels, using less moving parts, easily configurable options, in a modular design, and a competitive price point.
Our solution:  The NXT…  We at Star have fused the best parts of our current machine offerings into one machine to rule them all.  They have donated attributes such as value, versatility, efficiency, and stability.  Combine these existing features with our forward thinking direction and a truly epic design emerges.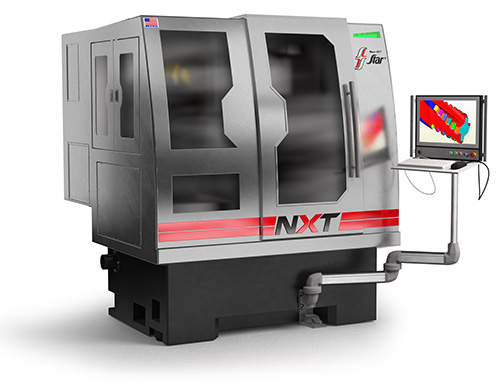 This leads to the question:  What makes it so different?
Size:  With outside dimensions of just 6.5' W by 7.5' L (including the spindle/axis chiller) and a grind zone of 30.2" x 19.9" x 25.6" (LWH) this machine has the smallest footprint to work envelope ratio on the market @ 40.1 (topping the closest competition by almost 2:1).  Think of this when looking at shop floor space utilization.  As shop space becomes a premium one can install more machine tools in a dedicated space with Star's NXT.
Diversity:  The NXT can wheel change and probe up to an 8" diameter wheel.  If larger is necessary, the NXT can run up to 10" diameter wheels with coolant manifolds and 12" diameter wheels without.  With synchronous spindle choices of either 20hp or 38hp and up to 20,000rpm capability, running sub 1" diameter wheel is a possibility.  Whether the customer wants to run large (8"/10"/12") shaped wheels for profiling, or .5" wheel for pocket grinding for PCD the NXT has you covered.
Capability:  The NXT has a massive work envelope for its petite footprint.  With a part diameter capability of just over 10"and a maximum fluting length topping out just over 16" the customer certainly won't be turning much oversized work away.  Also in its arsenal of attributes is a liquid cooled Y axis column chiller loop.  This ensures that the machine is both large and powerful enough for big tools and accurate and precise enough for small tools.  Never again will the customer have to forecast what tools will run on his next machine tool purchase, when the NXT will run them all equally efficient.
Automation:  Robots are nothing new to the tool manufacturing industry; OEMs have been using them since 1998.  If you have not looked at a machine equipped with one yet, you should.  A robot automation system offers efficiency, durability, and longevity second to none.  Pass on the axis mounted pick and place loader and opt for the bot who never takes a break, never calls in sick, and never wants nights and weekends off to spend with their baby bots. An industry first, we now offer a robot option which is completely able to be retrofit at the customer's facility.  Simply put, if your workload changes in the future you can add automation to meet the changing demand.
Durability: Using Stars proven formula polymer mineral cast Zanite® Plus base, linear motors driving XYZ motion, direct drive torque motors on BC rotaries, and liquid cooled axis, a near maintenance free machine is formed.  It is backlash free, thermally stable, and does not contaminate coolant with way-lube like ball screw machines do.  Add to this oversize rails/trucks, auto-greasing unit, and captured machine bellows, a design for long lasting operation is perfected.
Value:  With the modular design of this NXT machine tool, Star was able to reduce both delivery lead time, and cost in most cases.  Less moving parts to fail, and options that are more configurable, lets us quickly configure one of our in process or in stock machines to fit your grinding needs.
Combine all of the above with NUMROTO software and top it off with assembled and serviced in the U.S.A. and a truly exceptional machine tool has been created.  One that is appealing for spec sheet engineers, accountants, and machine operators.  The Star NXT is truly the (5) axis tool and cutter grinder that rules them all!
Jeremy Hubbard
Application Engineer
Star Cutter Company / ERE