July 13, 2018
Star SU China presented the "A.I. Users Favorable Comment Award" for Scudding® Cutters
Mr. Han Jinxin, Cutting Tools Sales Manager of North of China of Star SU China, accepted the award on behalf of Star SU China.
Various technologies, equipment and solutions are needed in all aspects of automobile and parts manufacturing. The Chinese automobile market nowadays has higher and higher requirements for the manufacturing efficiency, quality, cost and so on. For the comprehensive evaluation of technology and equipment, users have the most say, therefore received the user's praise is also the biggest incentive for equipment suppliers.
The selection of "AI Users Favorable Comment Award" had lasted for 3 months. Through the comprehensive network voting, user evaluation, editorial evaluation, users telephone survey and other links, "AUTOMOBILE INDUSTRY China" finally picked out the automobile equipment products and solutions featured with "advanced, practical, reliable, high quality, high efficiency, intelligence and cost performance."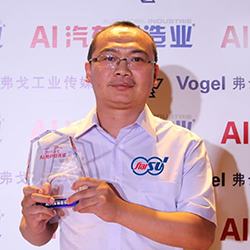 Star SU China's Scudding® with 3757 votes, won the "AI Users Favorable Comment Award" of the group of cutters. Really appreciate all the friends who voted for us. Thank you for your support and recognition. Customer satisfaction is always the most powerful engine to push Star SU China moving forward!